Johnny Hooper
(British)
Alto Saxophonist
Composer
Entertainer
Recordings: 15 albums to date
Alto saxophonist Johnny Hooper is one of the most dynamic performers today, both as a solo artist and with his highly acclaimed 5-piece band...a passionate player with a tremendously expressive sound.
"...Johnny Hooper plays with a lot of soul and a great tone..." HERB ALPERT
more...»click here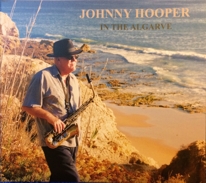 2017: CD "In The Algarve" now available to purchase online!
---
2014: THREE NEW CDs RELEASED by JOHNNY HOOPER in April 2014 including his brand new recording 'BIGGER THAN THE SKY' which features three bonus tracks with the amazing vocals of GRETA HOOPER. More....


'SMILE' RELEASE DECEMBER 2008
Johnny Hooper released his eagerly-awaited new album 'Smile' in the UK on the 8th December.
This album is CD number 10 in his prolific career as a great saxophonist, recording artist and entertainer. We asked Johnny about some of the tracks he has chosen: More...>>click here
REVIEWS
"...when I first heard Johnny Hooper, to my jazz ears his sound reminded me of a heady mix of Earl Bostic and David Sanborn. Now, several years and several albums on, I'm still a fan.
His CD, Secret Jewels, keeps up the high standard. There's real variety on this one; a great jazz-funk version of Miles Davis' 'So What' to a lovely version of the old standard 'Try A Little Tenderness' to Carol King's pop classic 'You've Got A Friend'. They all get the treatment from Johnny's soaring alto. His distinctive sound is yet again enhanced by the other fine musicians in his band.
So if you like your music smooth but with an edge, this one's for you."
ALAN STEADMAN - Jazz Waves, Radio Tay, Scotland
"...a well-produced album of instrumentals, we find Johnny Hooper playing alto sax, Carl Simmonds (who also produced and engineered the recording) on keyboards and Hywel Maggs on guitar. Backing vocals are also provided by Alex McIlquham.
The opening title track composed by Hooper features the stark alto sax with a gentle string styled undertow keenly created by Simmonds' fine keyboard playing. Johnny and the boys give a stunning interpretation to Miles Davis' modern jazz creation "So What" creating an infectious and intoxicating rendition of the number. The slow styled "Try A Little Tenderness" offers one of the best tracks on the album with searing sax solos and wicked riffs that contrasts ideally with the stunning and gentle piano solo from Simmonds. The Carol King/James Taylor composition "You've Got A Friend" is given a stylish interpretation with soft backing vocals from Alex McIlquham offering an easy gentle relaxing style.
Other tracks to look for include a sensational version of Herbie Hancock's "Watermelon Man", a well-performed adaptation of Phil Collins' "Against All Odds" and a groovy version of Herb Alpert's "Rise". Secret Jewels satisfies the appetite, makes its mark and pleasures the senses with a riveting rendition of Franz Schubert's "Ave Maria" bringing this fine album to its close. Secret Jewels blends exquisite pop songs with the fine world of jazz..."
GRAHAM LEES - Metro Sound Radio